FREE SHIPPING ON ALL ORDERS OVER £150 | 15% OFF SELECTED BRANDS WITH THE CLUBHOUSE
Waffle Crew – Skiddaw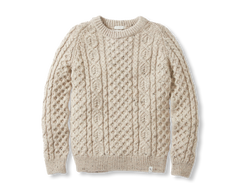 Free shipping on all orders over £150
Usually dispatched in 2 to 3 days.
Tracked UK delivery.
14-day return.
View our return policy
Have a question about this product?
Contact us
About
Peregrine have been manufacturing 100% British clothing for over 220 years. The brand produces wardrobe staples and contemporary knit patterns that are beautifully crafted from the highest quality materials that are super long-lasting.
WHY WE CHOSE THEM
"It's hard to beat well-made, luxurious knitwear. Peregrine's designs not only stand up to elements and are luxuriously soft, but also transition perfectly to suit an urban environment, making them adaptable and stylish even when you're away from the city"
- Harry Jarman Editor-In-Chief
KEY FEATURES
100% British Wool
Naturally water repellent
Antibacterial properties
Traditional heavy knit